The £2.00 Coin Savers Club
GreenFingers_2
Forumite
Thought I would start a new thread for £2.00 Coin Savers….. a sort of club... lol
My £2.00 Coin Piggy Bank (see wonderful picture below – hee hee) was starting to get really, really heavy,
so I emptied it out and a massive 44 coins are in there saved since last December. I popped into the bank this afternoon and put £50.00 of it into the savings account – hooray.
The balance of 19 coins can stay in there until there's another £50.00 to bank.
How many £2.00 Coins have you saved…..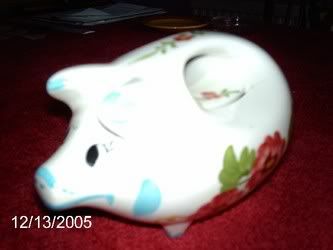 The Latest list of Savers and Amounts
To view the latest list of members and savings ... [post=2415375]
Click Here
[/post].
To add an entry into your Signature Panel
For those who need help creating a signature for displaying your £2.00 Coin savings, log on as normal then scroll to the menu bar:-
1. Click - User CP
2. Click - Edit Signature
3. Type your text into the box
4. Edit, set font size, colour as required
5. Add a Smiley too if you wish...
6. Click Preview Signature or Save Signature
7. If previewed and ok then click Save Signature
Easy Peasy….
The £2 Coin Savers Club = £346.00 (£300.00 transferred to Savings a/c)
"Some days you're a Pigeon...some days you're a Statue"
This discussion has been closed.
Latest MSE News and Guides