Snowman Soup Questions (merged)
bravobeastie
Forumite
✭✭✭
Official MSE Insert:
Snowman Soup is a perennial favourite on the Christmas board. Take some nice hot chocolate (look out for offers in supermarkets) and spoon it into a cellophane cone (you can buy these on
eBay)
until half full.
Twist and tape the top closed and trim any excess. Slip this into another cone (of the same size) and sprinkle mini marshmallows on top. Twist and tie the top with ribbon and stick a candy cane to the front. Print a label with instructions on how to make hot chocolate.
Here's rainmac's superb effort as an example. Scroll down for tons more tips.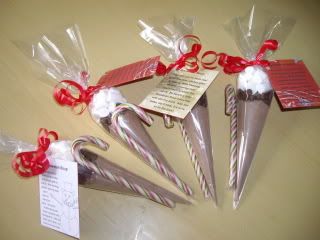 Back to the original post...
I had a question re snowman soup. Why does it say to put a cupful of drinking chocolate in and then the instructions just say to add water? All the hot chocolate I've ever made has been only 1 or 2 tablespoons. Its just that 1 cupful seems an awful lot
[tipsignupbox][/tipsignupbox]
This discussion has been closed.
Latest MSE News and Guides