RustyFlange
Forumite
Official MSE Insert:
These adorable sock monkeys are super easy to make from socks, buttons and stuffing. Just follow some
instructions
online. Scroll down for tons more suggestions, as well as pics of forumites' efforts.
Here's a beauty by Sharon_1970 to inspire.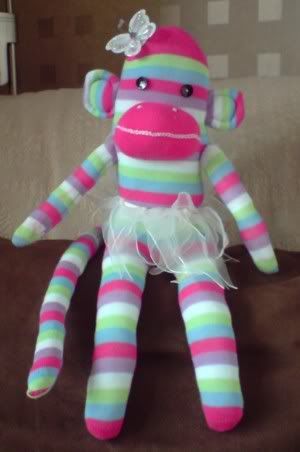 Back to the original post...
Have sat with my shiny new sewing machine tonight (xmas present of my dad) and after spending over an hour trying to figure out what goes where on the machine I have sewn up my first sock monkey ... it is all still in seperate bits at the moment as I have no stuffing (forgot to buy it and need to go out tomorrow and get some).
However following various destructions (instructions) and plenty of swearing i am now at the stage of how the hell do you do the mouth??? and does he really need a mouth or can i just stitch some felt in the shape of lips?
I used knee length socks which I think was wrong :rotfl: however I am happy with all my seperate bits ready to stuff tomorrow and then hand stitch the other bits together.
Any help appreciated. I think it may have been sethsgran that made them fairly regular?
Help please
[tipsignupbox][/tipsignupbox]
Raising kids is like being held hostage by midget terrorists
This discussion has been closed.
Latest MSE News and Guides