Adding lock to gate that is "half" on neighbour's RWP joe90mitch
Forumite

✭
Hi all,
We actually bought our house a few months ago, but we thought this might be the best place to ask this as it relates to deeds.
We live in a Victorian terrace with a shared alleyway, with the alleyway and "flying freehold" above owned by our neighbour. Obviously we have a RWP through the alley. The neighbour the other side of us also has a RWP through the alley and through our garden so she can take her bins out etc. The neighbour who owns the alley and flying freehold is rather, ahem, "particular" neighbour. She often tells off workmen/waterboard workers etc who are in the alley, even though they have permission to be there. She's had disputes with our previous owners and ones before that relating to boundaries. The neighbours all around have warned us of how she can be quite spiteful if you get on the wrong side of her (e.g. slamming doors) and we've been on the receiving end of a radio being played extremely loudly at 7am at times (Classical FM, thankfully she's not a heavy metal fan!). She doesn't really speak to us (though we had a decent conversation in the garden the other week for the first time).
It's all made us very wary of making any changes to shared areas/boundaries etc (e.g. the other week she was leaning over the hedge between us and well and truly pruning it back on our side, we decided to take it on the chin as we know anytime in the past people have raised issues that it's easily led to disputes etc, which we want to avoid).
We recently got a dog and have found that work people/our friendly neighbour (/maybe even this difficult neighbour who could be trying to spite us) have left the gate open numerous times. It can only be closed with a bolt from one side currently. I am going to add a spring to the gate, but I would also like to add a double sided long throw lock to it and give the friendly neighbour a couple of set of keys (she actually drove the chat as she asked if there's any way we could make the gate open-able from both sides - currently she has to go through our garden to open it from the back). Said gate is fixed to our extension wall, but the bolt itself currently goes into a round groove cut into the "unfriendly" neighbour's fence. We'd also just generally like a lock as it'll add a small amount of security (currently someone could just let themselves into the neighbours garden, then unbolt our gate from over her fence, if they wanted to - as proven by the water company when they needed access - they got shouted at by said neighbour).
Long winded explanation so far, apologies - just trying to get across the whole context. The unfriendly neighbour has a historic RWP in the deeds that gives her a tiny passageway into our back garden to where the old Victorian toilets would have been (long gone). As a result I'm wary of adding the lock if she has ground to make us remove it/start an official dispute.
Just looking for advice here. I'll post all the deeds' wording and images below. Does she still have a right of way into our back garden even though there is no purpose for her to be there? If she ever had a genuine reason to need to get in for maintenance, we would happily unlock the gate for her. Can she prevent us adding the lock/make us remove it once there? Would we have to offer a key? Hopefully you get the gist of my thoughts
I know one obvious solution is to go to her and just ask her (we've been putting notes through the door to warn her of workmen coming to try to appease her and let her know when it would be noisy - she wouldn't return "hellos" to us at that point), but we're trying to give her some "breathing space" and would rather just do it if there's no ramifications.
--------
Deeds wording as below:
The registered title shows that the Property is subject to the following rights.
a right for the owners of the adjoining and neighbouring properties to use any services which pass through this property
a right of way over the access coloured blue on plan 4 for the owners of number 18 (friendly neighbour) and a right of way for the owners of 14 over the land coloured yellow on plan 2 (unfriendly neighbour)
a right for the owners of the adjoining properties to enter this property to carry out repairs and maintenance
Full right of support over this property for the said roofs, eaves, gutters and spouts which protrude over their properties into or over this property
Plan 1
Plan 2
Plan 3
Pl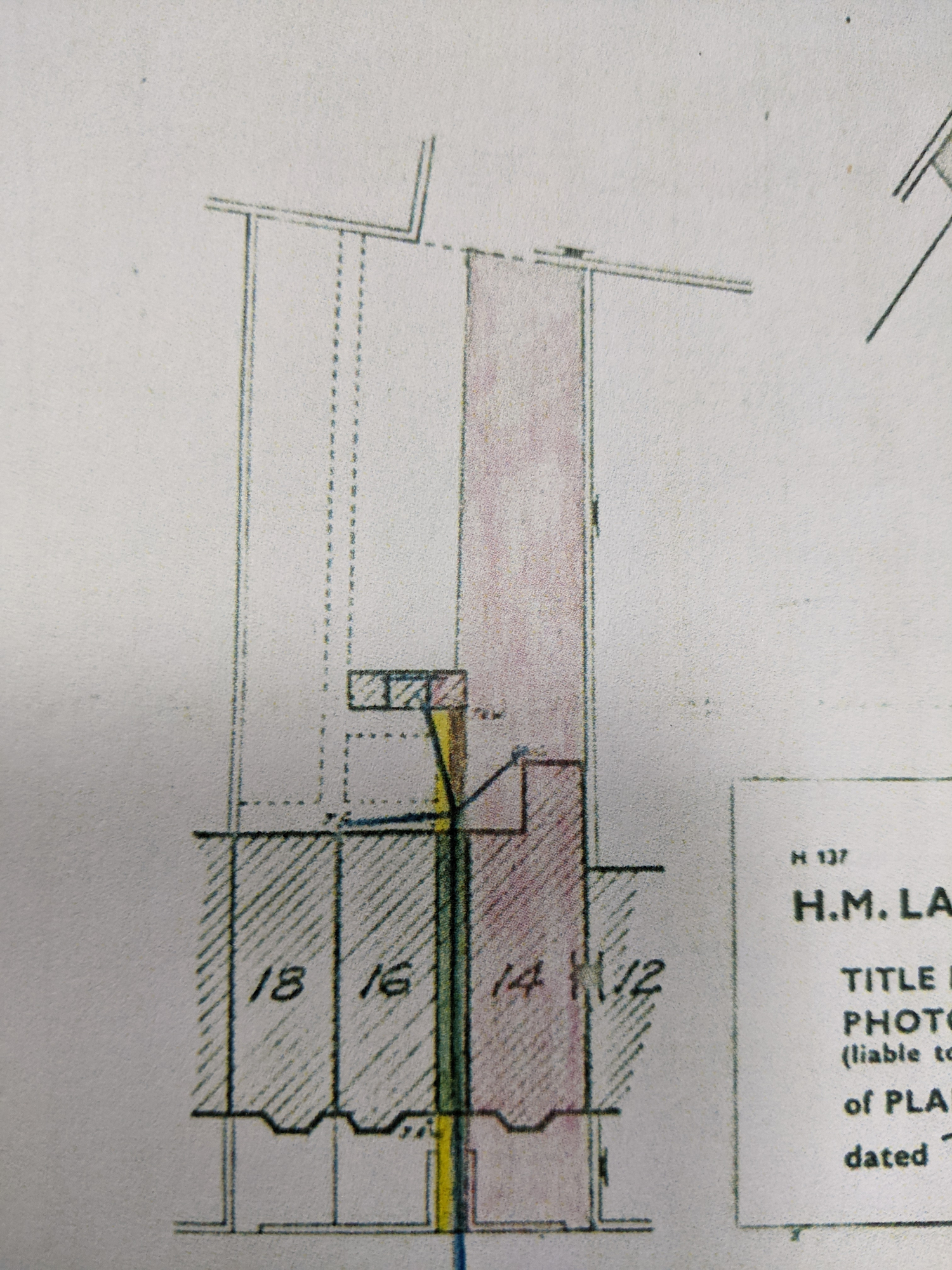 Plan 4
My drawing of current set up (plans don't show the extension, for context, nor obviously the placement of the gate - 
note that it's the gate marked as "to our garden" that would be the one I add a lock to on the right hand side of the gate - the hinged side is against our property). 
The hatched blue area is the only RWP the "unfriendly" neighbour has on our land and the gate extends just beyond it
Quick links
Essential Money | Who & Where are you? | Work & Benefits | Household and travel | Shopping & Freebies | About MSE | The MoneySavers Arms | Covid-19 & Coronavirus Support