MPs want to hear your views on childcare vouchers
UKParliament
Organisation Representatives - Private Messages may not be monitored
✭✭
MPs want to hear your views on a petition calling for childcare vouchers to be kept open beyond April 2018.
The petition reads: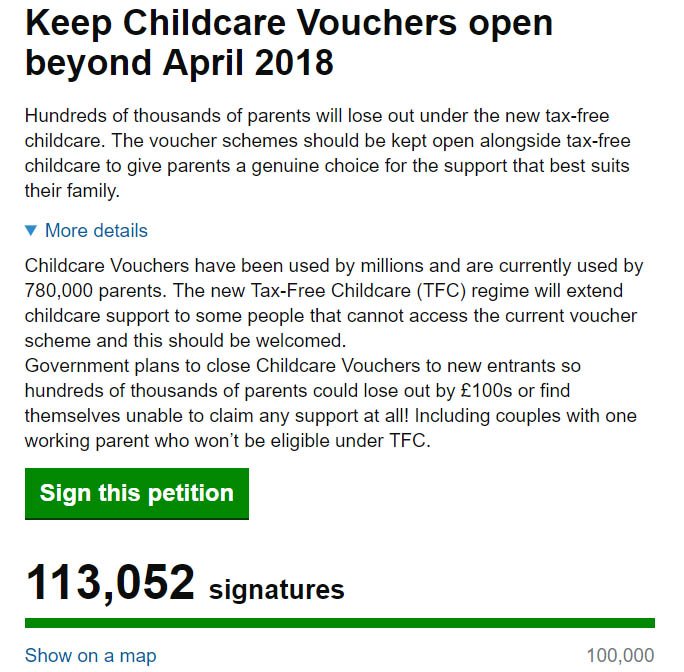 In particular, the Petitions Committee wants to hear your views on:
Do you agree with the petition? Why/why not?
How will you be affected by the change to Tax-Free Childcare?
If you were an MP taking part in the debate, what points would you make to the Government or what questions would you ask?
Your contributions will be summarised and shared with MPs taking part in a debate on this petition.
You can watch the debate from 4.30pm on Monday 15 January 2018. We will post a link as soon as it becomes available.
Official Organisation Representative
I'm the official organisation rep for the
House of Commons
. I
do not
work for or represent the government. I am politically impartial and cannot comment on government policy. Find out more in
DOT's Mission Statement
.
MSE has given permission for me to post letting you know about relevant and useful info. You can see my name on the
organisations with permission to post
list. If you believe I've broken the Forum Rules please report it to
[email protected]
.
This does NOT imply any form of approval of my organisation by MSE
This discussion has been closed.
Latest MSE News and Guides