Beginners Guide to Cycle Commuting
Weird_Nev
Forumite
Note from MoneySavingExpert
Forumite Weird Nev wrote this fab MoneySaving commuting guide in 2013 but it's ever-relevant. If you're considering cycling to work on
#CycleToWorkDay
it's well worth a read.
Also join in on our completely unscientific
Are you cycling to work on #cycletoworkday poll?
Back to the original post....
---
Introduction
With the success of the Bike to Work Scheme, Froome winning the Tour de France, and finally some summer weather, more and more people are asking the question: Should I cycle to work? With this comes a host of subsidiary questions: Is my old rusty bike up to it? what equipment do I need? Will it actually save me money? With these questions in mind, here is WeirdNevs Money Saving Expert Guide to cycling to work!
Who am I?
Just a cyclist. I've commuted by bike all my working life, as did my dad! I commuted around 30 miles a day year round to get to my first job, and for the last ten years I've been cycling about ten miles a day at each end of a train journey, with 6 miles a day through central London. I'm also a keen recreational cyclist, I currently own 4 1/2 bikes, I've ridden road bikes to distances up to 200km in a day, and fixed gear bikes on 60 mile rides. I also mountain bike, taking on tracks and off road routes in Wales and now in Western Australia: Believe me, 40km off road through the outback focuses the mind! I'm a qualified mountain bike trainer, and I ran 3 day training courses for colleagues in the safe use of bikes on and off road.
Advantages of Bicycle Commuting
The advantages of cycling to work include but are not limited to:
It saves money over a car, and even trains and buses in some cases.
It is the most environmentally friendly form of travel yet devised by man.
It can even be faster than car or public transport by virtue of it's door to door nature.
It combines an essential journey with keeping fit.
You feel happier and healthier.
I have found it provides a useful "book end" to a stressful working day. An opportunity to clear your head and focus on something other than work or home life.
Disadvantages:
There are some disadvantages to cycling to work:
If you are unfit, it will take time to build fitness and reap the rewards. This can be a dispiriting time.
Whilst not a dangerous past time, you have to accept the dangers of cycling in traffic.(roughly comparable with the risks of being a pedestrian per km traveled, four times safer than riding a motorbike).
If you are attracted to shiny new things, like any hobby it can get expensive!
The risk of theft of your mode of transport is high, and bikes are very expensive to insure. Your best policy is a strong lock and a secure place to leave the bicycle whilst at work AND at home.
You may have to be organised and sort out the logistics of getting work clothes to work, having a shower at work, and splitting journeys between modes of transport. I've found that the bed-to-desk time of cycling can equal that of traveling by bus, train or car, for commutes up to 15 miles. When you're starting out though, you may find it takes longer than expected.
You should accept that in the UK, there's the possibility that you might get wet. That said, for a person cycling every day, it is estimated that you will actually get rained on around 12 times a year.
Is it feasible for me to cycle to work?
Can you even consider cycling to work? As I see it, you can break down cycle commuting distances in to three groups by one-way distance:
1-5 miles:
You should definitely consider either walking or cycling to work! This kind of distance is horrible for cars. They don't even get up to temperature so fuel efficiency and wear and tear are sky high. Buses are frequently late or delayed, and season tickets cost the earth! An unfit cyclist on a basic cheap bike will be more than capable of covering 5 miles in around 30 minutes. In urban areas you will often beat rush hour traffic point to point. If this is your commute, you should definitely be looking at cycling. You can simply hop on the bike and go! I would expect the start up costs for a cycle commute to be around £100 or less if you have a bike already, and £300 or less if you do not.
5-10 miles:
This is a perfect distance for a capable cyclist on a mid range bike. You should be targeting this length of commute door to door in perhaps 30-45 mins depending on terrain, fitness and traffic. you will need some additional considerations in terms of comfort though. Things like a comfortable saddle, cycling gloves, a method of carrying work clothes and equipment and some spare parts and tools become important, as do general cycling technique and fitness. The bicycle will also need to be robust and with quality components if it is to withstand the mileage. Shower and changing facilities at work are a distinct advantage at this distance, but not essential. I would anticipate spending in the region of £300-£500 if you don't already have a bike and equipment.
10+ miles.
This is what I would term a "long" cycle commute. It is still no barrier to successful cycle commuting. I have known (insane) colleagues routinely commute distances up to 30 miles each way. If you're new to cycle commuting and your route is over 10 miles, then it will take careful planning and some training before you're able to regularly commute that distance. You will also have much higher start up costs, and sadly a higher chance of getting dispirited and giving up! That's no reason not to try though. Even cycling twice a week will have enormous benefits in your commuting costs and your fitness. Amongst other considerations, you will need the most appropriate type of bike for the route, good clothing, cycling specific shoes and in time "cleat" or "clip" style pedals to maximise pedaling efficiency. You'll need to be strong willed, and some mechanical ability is necessary as there's no option to "walk" out of the middle of a 10 mile bike ride if you have a puncture or other mechanical problem. Logistics also get interesting as you will need to change clothes and may need to juggle car journeys with cycling as your needs and errands change. Cycling a commute of this distance is a commitment. It may be wise to drive half way, or mix cycling with a bus or train journey until you have built your fitness and proven your equipment in the field. I would expect to spend at least £500 to set up commuting 10 miles or more daily, and for it to be a gradual build up to full time cycle commuting.
Choosing a Route
Route is of paramount importance to the cycle commute. You should consider your likely route, and variations, before you attempt your commute or even start buying equipment. In particular your choice of bicycle will be heavily influenced by the route you intend to use. In almost all cases, the route you would drive will NOT be the best route to cycle. Google maps is an excellent resource for checking routes and alternatives. Avoid A-roads if at all possible, and dual carriageways at all costs. It is illegal to cycle on motorways. Try and avoid roads with speed limits higher than 50Mph because the speed differential with motorised traffic streaming by can be unnerving. By all means use cycle paths, but do not feel you are obliged to. If the cycle path is potholed, badly maintained and strewn with debris, feel free to use the road in preference.
Do not allow a painted cycle path to fool you into complacency. You are still on the road, the same level of attention is required.
If you are lucky enough to use cycle tracks or off road trails, again by all means do so, but be aware that a bicycle capable of true off road routes will be necessarily compromised for on road use. If a shortcut in a long commute is seriously off road, it may be worth avoiding it for the sake of the bike.
Canal tow paths can be convenient, but are in my experience not particularly pleasant to cycle on: Muddy, litter strewn, tricky pinch points, the occasional weirdo and the constant risk of falling into a canal are all off putting. Try them out, but don't be a slave to them. There might be a perfectly pleasant alternative route alongside.
Hills: Terrain affects you on a bike like no other form of transport. It takes a masochist to enjoy cycling up hills. Consider alternatives - the circuitous route up a hill, or even around it, may be preferable to the direct route over it. If it's the choice between two miles on B-roads around the back of a hill Vs half a mile on an A-road up it, I'll take the
B road route every time.
So, consider your route, consider all options, and build a route that suits your bike, your fitness and your confidence level. Don't be fooled into thinking either the shortest or quickest route is the best. As you get to know your route you will be able to consider options to make the ride shorter, longer, more or less challenging and more fun.
Training - Both fitness and Cycle Skills
If you are considering getting on the bike for the first time in a long time, I can't recommend some form of practical training enough. Even as a refresher to build confidence and remind you of the rules of the road, and safe way to tackle junctions, roundabouts and more. I could write a book on the subject, but reading is no substitute for tuition.
Check with a local authority, Bike user group, or local cycling club. Even accompanying some experienced riders out on a ride should be a major confidence boost and yield a wealth of information. "Richards Bicycle book" is also an excellent book on the art of road riding through it's many revisions.
What kind of bike do I need?
Now we come to the fun bit: Spending money. But should you? and how much?
Converting and commuterising your existing bike
The first option to consider is 'commuterising' your existing bike. Yes, that rusting hulk left out in the shed. Bikes are very robust, and often don't take much to renovate into a safe and reliable commuter bike. Many people have an old neglected mountain bike or tourer, and before consigning it to scrap, the money saving way is to consider if it can be renovated and put to use. You could even ask around and see if family or friends have a bike they're not using.
The following are good start points to overhaul a bicycle:
A pair of fresh tyres. Tyres perish over time, and knobbly off road tyres sell bikes through the dream of mountain biking, but are uncomfortable and inefficient on the road. Buy a cheap pair of slick or semi-slick tyres and inner tubes. Keep them narrower than full mountain bike width, for lower rolling resistance. Avoid cheap tyres touting "puncture resistance": by and large they're heavy and have high rolling resistance. (Specialized armadillos and Continental gaitorskins are a notable but pricey exception). You can pay as little as £12 for good tyres, £15 with inner tubes. Look out for deals on www.wiggle.co.uk and similar sites.
A new chain: so long as your old chain isn't too far gone, it shouldn't have damaged your sprockets and chain rings. After tyres, a new chain is the second biggest improvement you can make to the bikes efficiency if the old one is old and rusty. Keep it greased or oiled to maintain it's life! Don't leave bikes out in the wet.
Grease and inspect the brake cables and gear shifter cables. Nine times out of ten, if a bike has problems shifting gears, it's because of neglected cables. You can pull them out of their sleeves and grease them, and that may well be all they need. If you want to really boost their performance on a bike a few years old, cheap replacement cables are available and make all the difference.
A bit of attention to fit will also yield results. Get a knowledgeable friend or a bike shop to help you check seat and handle bar position.
Quick Money Saving tip! Don't waste money on expensive mud guards! See below in 'essential equipment' for a cheap mudguard solution!
Be cautious, however, of throwing good money after bad. I would say that a refresh on a neglected cheap bike should cost a maximum of £50 and a couple of hours work. If it's looking like you need to replace sprockets, gears shifters or other parts, then in all likelihood you're better off buying a well looked after second hand bike. Likewise, if the bike was only ever a very cheap bike, it will be heavy and may be hard to keep reliable and efficient. You may be better off giving it up and getting something better. The classic "bad bike" is a cheap (under £200 new) full suspension mountain bike: The front shocks are terrible, the rear shocks bounce and waste all your energy, and the whole thing is incredibly heavy. I would not spend good money trying to turn one into a slightly less bad bike. Better off starting afresh with something that will be rewarding to ride.
As an example: Here is my fathers old bike frame, which he commuted on as standard for ten years. I then took it on and used a few parts I had lying about to build up "Frankenbike". It's now my all purpose daily hack and commuting bike. With new slick tyres, cables, a new chain (and some other bits like wheels and gear shifters) it's turned
into a very serviceable bike. Nowadays it even has a rear rack and child seat for carrying my young son about with me! The perfect creche run machine!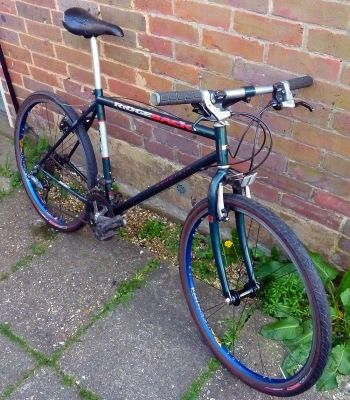 The options when considering a buying a new bike:Mountain bike
s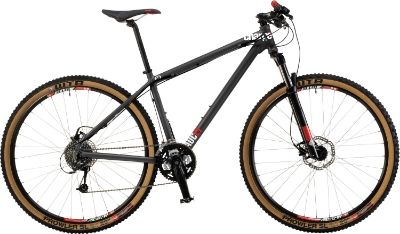 Having shot to fame in the 90's, virtually every home has a collection of mountain bikes. Their upright riding position, stability and comfort makes them an ideal recreational bike. Unless your commute is wholly off road, they are not ideal for commuting. In particular, the tyres compromise rolling resistance for grip and comfort. The upright riding position
is inefficient at speed where aerodynamics are the single biggest drag factor on a cyclist, the gears offer a wide range of ratios, but they are widely spaced for steep hills and long fast descents, meaning that it can be hard to be in the correct ratio at road speeds. Suspension is essential on a true mountain bike, but cheap versions of it are a horrendous
weight penalty to bear with no real benefit to a commuter. If you already have one, or if your commute is less than 10 miles each way, then consider "hybridising" your mountain bike to eliminate the biggest compromises. Slick tyres, bar ends to give a variety of handlebar positions, and a comfortable saddle could turn an unloved mountain bike into the ideal mid-range commuter. Mountain bikes of acceptable quality are available for £200 and up.

A Commuter or "hybrid" bike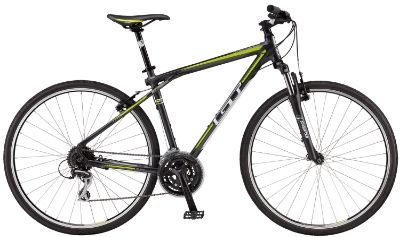 Since the onset of the bike to work scheme, there has been a drive towards commuter ready "hybrid" bikes. These range from mountain bikes with slick tyres, to thin wheeled road bikes with flat handlebars, and everything in between! They can offer a great combination of efficiency, comfort and cost, whilst allowing you to tackle light off road tracks on your every day bike. For longer commutes towards ten miles, I'd recommend a hybrid with an increasing bias towards a road style bike as the distance increases. Spend £300 and up to get a reliable bike. The more you spend, the less it will weigh!
Consider hub gears - Shimano and Rolhoff both make excellent contained gearing systems. They may lack the gear count, but each gear is selected to be useful. Many mountain bikes have less than 14 useful distinct gears, Rolhoff fit that into a single hub - at a price. They are easy to maintain and don't lose indexing like deraileur gears: One of the prime reasons bikes end up unloved and unused!
Touring bike
Die hard cyclists - the sort who wear canvas 3/4 length trousers, a thick knit sweater and can cycle 200 miles before breakfast - swear by a good touring bike. And with good reason. A combination of strong steel frames, relaxed comfortable geometry, "mustache" or drop handlebars offering a range of grip positions, flexible gearing, Brookes saddles and racks all over offer an unbeatable way to cover ground on a bike. Frames can be custom made to requirement, and fittings carried out by experts. However, it's unlikely a full touring bike will be the first you buy. In all probability you will know very precisely your requirements by the time you come to purchase one. That said, be wary of the wizened cyclist on an ancient looking Dawes Galaxy: He likely started pedaling before you had breakfast, and will no doubt still be pedaling when your head hits the pillow!
Especially as hand-me-downs, these bikes can make excellent commuter bikes - but you do have to pay for them. £500-£1000 and upwards for a touring bike with a good level of specification.
Road racing bike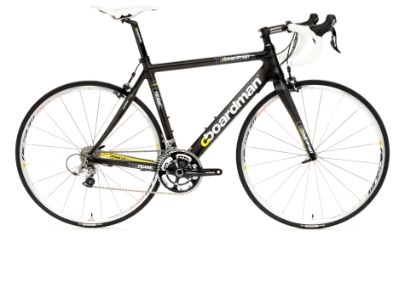 The rise of British cycling has seen a renewed interest in road bikes. £300 and up can buy you an entry level bike. £1000 sees you choosing between exotic frame materials and technologies.
For a commuter considering a 10 mile or more route, there is little to touch a proper road bike. They are fast, light, efficient and aerodynamic. The compromises are uncomfortable ride and positioning for a novice cyclist (in particular the crick in the neck and shoulders as yo hold your head to look forwards), fragile components like thin tyres and light weight wheels, and an inability to go off road. Twitchy handling, thin saddles and drop handlebars are more about going fast than being comfortable, and often frames do not have provision for a rack or panniers. If commuting on a road bike, expect to wear a back pack or sort out lunch and clothing logistics some other way.
There is no doubt though: If you need to cover a substantial distance on a road quickly, the dedicated road bike will take some beating.
Folding bikes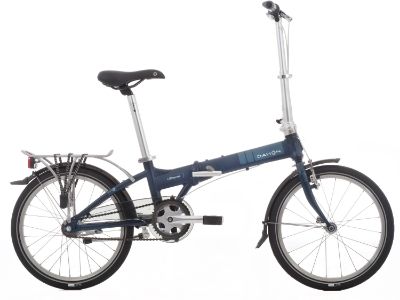 I will admit a slightly anti-folding bike bias here, but a special mention is owed to our compact friends. Bikes from the likes of Dahon, Brompton and Moulton amongst others offer a range of methods of packing a bike down to convenient size. Their advantages are unparalleled convenience in mixed travel. You can cycle to a tube or train station, even a bus stop, fold the bike, hop on, hop off and continue your bike ride. They are also ideal for storing at home or under the desk if there are no other facilities. The cost of this versatility: They are expensive, small wheels are less efficient and soak up bumps less well. The overall bike frame is compromised in efficiency of power transfer and rider position. It's hard to get seating height spot on when you're raising and dropping the saddle the whole time. Consumable parts can be unique and expensive.
Whilst they are undoubtedly the best solution for many, I have never found a folding bike I would choose to ride any appreciable distance. As an example, with a commute of 2 miles one end of a train ride, and 3+ at the other, I chose to use two bikes, one at each end of the journey, rather than a single folding bike. Consider folding bikes to speed up mixed transport modes, but as a stand alone commuter you can get far more bike for your money with a conventional solution.
Electric bikes
A quick word on electric bikes, which are gaining popularity.
I'll freely admit I'm a bit of a purist when it comes to cycling, but the advantages of an electric bike are hard to ignore: assistance up hills, a higher speed for a novice cyclist, and 'free' recharges. The disadvantages? You have to charge it which takes time, they're more expensive, they've still very heavy compared to a conventional bike, and you'd better hope you don't have to climb any big hills after the juice has run out! If you do use it regularly the battery will wear out over time. You should investigate it's durability and cost of replacement before buying the bike.
Those issues taken into account, there's no denying that for people with shorter commutes or those less able, they offer a compelling solution.
Spend as much as you can afford, ask probing questions about battery life, and ensure that you get an extended test ride to check that the bike actually performs as you need it to before you part with mone
y.
This discussion has been closed.
Latest MSE News and Guides