Register to vote by 22 May
UKParliament
Organisation Representatives - Private Messages may not be monitored
✭✭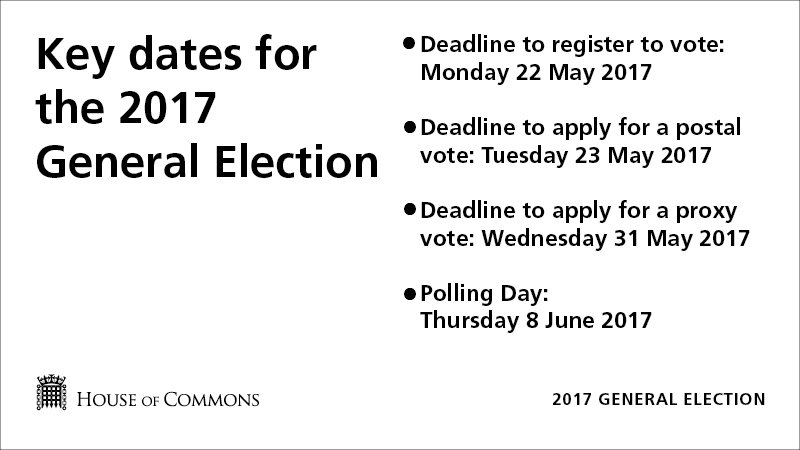 In order to vote in the general election on 8 June, you must ensure you are registered to vote by
22 May
.
Registering only takes a few minutes and all you need is your address and your National Insurance number. You can check if you are already registered by contacting your local Electoral Registration Office.
Click
here
to register if you are in England, Scotland or Wales. If you are in Northern Ireland, click
here
.
Remember that you can opt-out of the
'open register'
if you would prefer. This does not affect your right to vote.
How does the General Election work?
What if I can't get to the polling station on 8 June?
You can apply to vote by
post
or by
proxy
if you're not able to get to your polling station on the day.
I'm moving house, how do I cast my vote?
If you have recently moved house, you should register to vote at your new address by 22 May. If you are moving house after the 22 May and before polling day on 8 June, you should register at your current address (i.e. the place you will still be living at on 22 May). You can then apply to vote by post or, if you prefer, you can vote in person at the polling station near your registered address.
Visit Parliament for free if you're aged between 18 and 24
To encourage young adults to register, vote and engage with the democratic process, all UK 'young voters' currently aged 18 to 24 can book a free place on a tour of Parliament. For tour dates and to book a place, please click
here.
Official Organisation Representative
I'm the official organisation rep for the
House of Commons
. I
do not
work for or represent the government. I am politically impartial and cannot comment on government policy. Find out more in
DOT's Mission Statement
.
MSE has given permission for me to post letting you know about relevant and useful info. You can see my name on the
organisations with permission to post
list. If you believe I've broken the Forum Rules please report it to
[email protected]
.
This does NOT imply any form of approval of my organisation by MSE
This discussion has been closed.
Latest MSE News and Guides