Gamers - Parliament Outreach needs you!
UKParliament
Organisation Representatives - Private Messages may not be monitored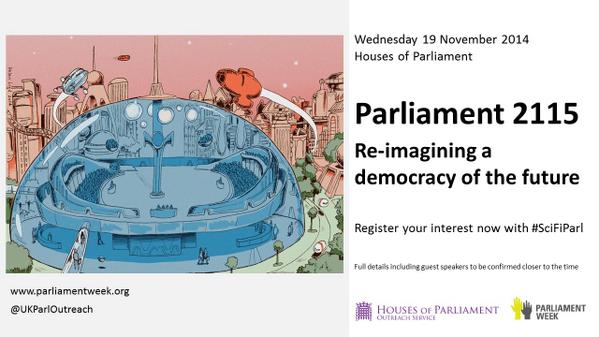 Parliament 2115: re-imagining a democracy of the futureThis year, for Parliament Week 2014, Parliamentary Outreach is inviting sci fi, fantasy and comic fans, gamers and scientists to re-imagine democracy in 2115.

We want you to think as creatively as you can, and to boldly go wherever the fancy takes you. Debate the future with us, in today's Parliament, on Wednesday 19 November 2014 between 6.30 – 8pm in the Macmillan Room, Portcullis House at the Houses of Parliament.
Politicians debate the imminent present, but science fiction explores even stranger horizons: the impossible dreams and apocalyptic visions of the far, far future.
From anarcho-syndicalist moon colonies to genetically engineered tapeworm, sci fi has generated exciting, thought-provoking and sometimes prescient visions. What could Parliament look like one-hundred years from now? What issues will we face? Who will represent us? And who will be listening?
For spoilers you can follow the updates on this event using the Twitter hashtag
#SciFiParl
.
Who can attend?
Anyone with an interest in science fiction, fantasy or re-imagining the present. This debate is expected to draw on artificial intelligence, dystopias and myriad genres. Attendees could include gamers, sci-fi, fantasy and comic fans, LARP-ers and scientists, or anyone interested in the future of democracy.
Visitors should enter by the main entrance to Portcullis House on the Victoria Embankment, facing the river.
Find out more about Parliament's Outreach Service
The Houses of Parliament Outreach Service spreads awareness of the work, processes and relevance of the institution of Parliament, encouraging greater engagement between the public and the House of Commons and the House of Lords.
Booking details
There is limited seating available for this event, so do let us know if you'd like us to provisionally book you a seat (we will contact you closer to the time with details of the guest speakers). We will operate on a first-come first-served basis.
To register your interest for this event email
[email protected]
referencing
SciFiParl
in subject line of the email.
Cost
This event is free of charge.
We look forward to seeing you there and will update you with details of the speakers as soon as possible.
Thanks
DOT
Official Organisation Representative
I'm the official organisation rep for the
House of Commons
. I
do not
work for or represent the government. I am politically impartial and cannot comment on government policy. Find out more in
DOT's Mission Statement
.
MSE has given permission for me to post letting you know about relevant and useful info. You can see my name on the
organisations with permission to post
list. If you believe I've broken the Forum Rules please report it to
[email protected]
.
This does NOT imply any form of approval of my organisation by MSE
This discussion has been closed.
Latest MSE News and Guides