Heads up, compers! In order to investigate a technical issue, we've had to move some of the older threads from Game Over into a new category called 'Game Over Archives'. It'll be comps from before 2017, so shouldn't have too much impact on your day-to-day Forum experience. Thanks for your patience!
E: 07/03 Win a selection of OrchardWorld produce + Red Letter Day - Afternoon Tea for 2 (IG/TW/FB)
https://www.instagram.com/p/CowwE-prpgn/
https://www.facebook.com/photo/?fbid=864712924563913&set=a.762264154808791
https://twitter.com/OrchardWorld_/status/1626545211873665030
1/3 Of all the special joys in life, the big ones and the small, a mother's love and tenderness is the greatest of them all.
Enter our OrchardWorld Mother's Day hamper competition and you could be in with the chance of winning a real treat for that well deserving mum.
Together with our favourite OrchardWorld seasonal fruits, you could be asking your mum to get her glad rags on and whisking her off for a lovely 'Red Letter Day - Afternoon Tea for 2'. Not only does your cherished mum get a lovely gift, but you also have the opportunity to enjoy it and spend some quality time with that one person who is always there for you. Win Win.
Even better, we are running our hampers a little differently this year, offering this amazing prize on each of our social media platforms: Facebook, Twitter and Instagram. There is no stopping you entering on all three platforms.
2/3 Look what you could win for your mum:
1 x Red Letter Day - Sparkling Afternoon Tea for 2
1 x 'World's Best Mum Banner'
3 x Happy Mother's Day Balloons
1 x OrchardWorld Blush Oranges
1 x OrchardWorld Mixed Citrus Box
1 x OrchardWorld Blush Pears
1 x OrchardWorld Flavorking Plums
1 x OrchardWorld Apple Box
1 x OrchardWorld Tote bag
3/3 The deadline for this competition is Midnight on 7th March 2023. The winners will be selected from an online automatic computer generator and then informed on Wednesday 8th March.
Simply, like, follow and tag 4 friends in the comments section to enter.
Please visit our website
www.orchardworldproduce.com/terms-conditions
to find our full T&Cs.
Ends Midnight on 7th March 2023
You can find our OrchardWorld products at Ocado, Amazon Fresh, Wholefoods, Spar, Booths and Costco.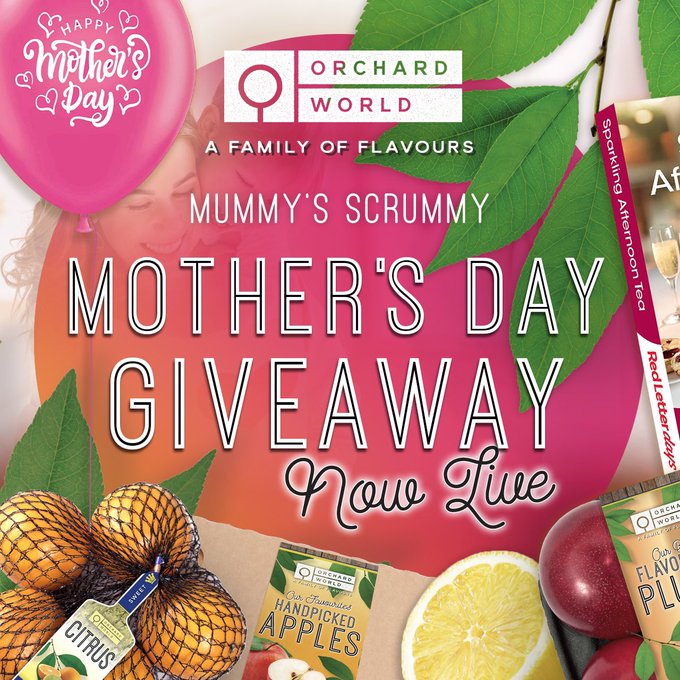 Wins in 2022 - 43Wins in 2021 - 62Wins in 2020 - 68 Wins in 2019 - 5
Latest MSE News and Guides