NOW OPEN:
the MSE Forum
'Ask An Expert' event.
This time we'd like your questions on
TRAVEL & HOLIDAY DEALS
. Post by Wed and deals expert MSE Oli will answer as many as he can.
MSE'S 'Academoney' support discussion thread
MSE_Molly
MSE Staff
MSE Staff
DIWEDDARIAD Mawrth 2021: Mae cwrs 'Academoney' bellach wedi'i gyfieithu i'r Gymraeg. Cofrestrwch i gwblhau'r cwrs yn Gymrae yn fan hyn, ac am fwy o wybodaeth, gwelwch stori newyddion ddiweddaraf MSE.

UPDATE March 2021: The 'Academoney' course has now been translated into Welsh. Sign up to do the course in Welsh here and English here, and to find out more about the translated course, see MSE's latest news story.

Hello MoneySavers!
If you haven't already heard, the MoneySavingExpert.com team has some exciting news! We've teamed up with world-leading learning institution, The Open University (OU) to launch a new, completely free and independent academic course, to help give the nation the skills and knowledge to truly master their finances. You can read the full news story here.
The course – MSE's Academy of Money – is prepared and written by The Open University, with support and guidance from MSE. It's made up of six two-hour sessions of study covering all the key aspects of personal finance.
It's a major project that we, Martin and the OU are all extremely proud of, so we wanted to create a dedicated space on the Forum for those of you taking part.
This thread is designed especially for those of you choosing to enrol on the course, aka 'Academoney students', as an area for you to chat freely about how you're getting on, any grey areas where you may need a helping hand, or words of encouragement.
You can sign up to the course here, but before that, we've included a brief overview below so you know what to expect:
MSE's Academy of Money is written by The OU, with support and guidance from MSE.
It is made up of six two-hour study sessions, packed with videos, audios, quizzes and activities, covering all the key aspects of personal finance, including spending, borrowing, mortgages, saving, investing and retirement. So it should take you around 12 hours in all to complete.
It's hosted on the OU's OpenLearn platform, and is a flexible course, allowing you to study at your own pace. You can even choose to complete just one topic to brush up – but to get the OpenLearn Badge, you'll have to complete all six.
It is available to anyone, for free.
Enrolling on the course will give you the opportunity to earn an OU digital badge and a statement of participation once you've completed all six parts and an end-of-course quiz. You can share your badge with friends, family and employers, as well as with others here on the Forum!
What is a badged course?
Badged courses from The OU provide another way of helping you to progress from informal to formal learning, as well as educating communities remotely. They are available on the OU's OpenLearn website and do not cost anything to study. They differ from OU courses because you do not receive support from a tutor, but you do get useful feedback from the interactive quizzes.
So there you have it – will you be joining the 'Academoney'? Let us know and post below!
- MSE Molly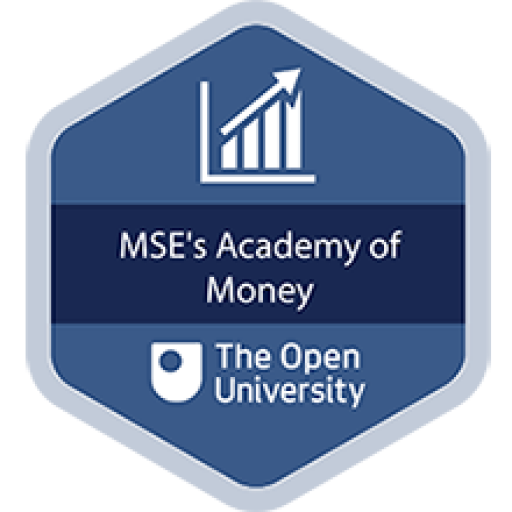 MSE's Academy of Money digital badge

Follow MSE on other Social Media:
MSE Facebook, MSE Twitter,MSE Deals Twitter, Instagram
Join the MSE Forum
Get the Free MoneySavingExpert Money Tips E-mail
To report inappropriate posts: click the report button
Point out a rate/product change
Flag a news story:

[email protected]
Latest MSE News and Guides