Delivery fees in Scotland: tell MPs your stories
UKParliament
Organisation Representatives - Private Messages may not be monitored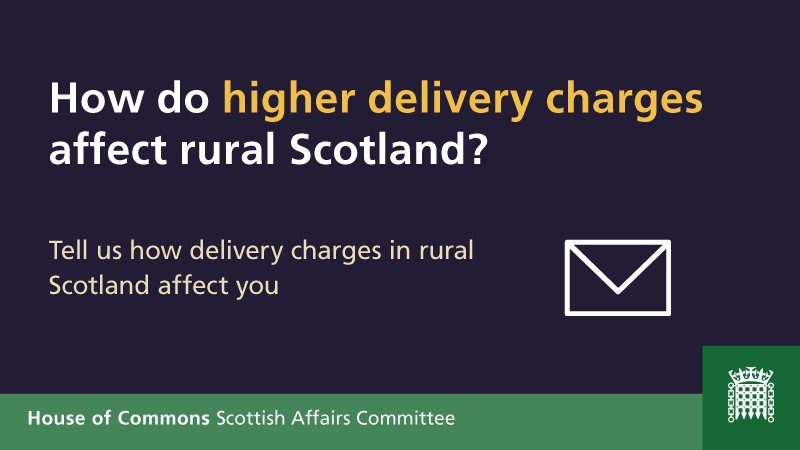 On Tuesday 27 February the Scottish Affairs Committee will hold a one off session questioning major online retailers, delivery companies and organisations that have looked into delivery charges, including Ofcom and Citizens Advice Scotland.
Ahead of this session, the Committee want to hear from you about your experiences of being subjected to higher fees, longer delivery times or even refusal of service.
Are you affected by high delivery charges based on where you live? What are these costs?
Do you think these costs are fair?
And are these costs clear explained to you when you make an order?
The Committee will use the information you provide us to inform our questioning of delivery charges in Scotland. Please post your comment by
Wednesday 21 February
to make sure the Committee have a chance to see them before the evidence session.
Please note, the Committee cannot respond to or pursue individual cases.
If you don't want to contribute on the forum, you can submit through the Committee's website.
You can visit the
Committee website
, or follow the Committee Twitter account
@CommonsScotAffs
, for more information.
Official Organisation Representative
I'm the official organisation rep for the
House of Commons
. I
do not
work for or represent the government. I am politically impartial and cannot comment on government policy. Find out more in
DOT's Mission Statement
.
MSE has given permission for me to post letting you know about relevant and useful info. You can see my name on the
organisations with permission to post
list. If you believe I've broken the Forum Rules please report it to
[email protected]
.
This does NOT imply any form of approval of my organisation by MSE
This discussion has been closed.
Latest News and Guides