Qwertee Black Friday sale Randomly selected T shirt design £4
lilmiss1982
Forumite
Forumite
Qwertee Black Friday sale.
https://www.qwertee.com/
Randomly selected T shirt from £4 plus p&p
Mens, Women's, Kids sizes
1000's of designs
I guess it's hit and miss what you might get.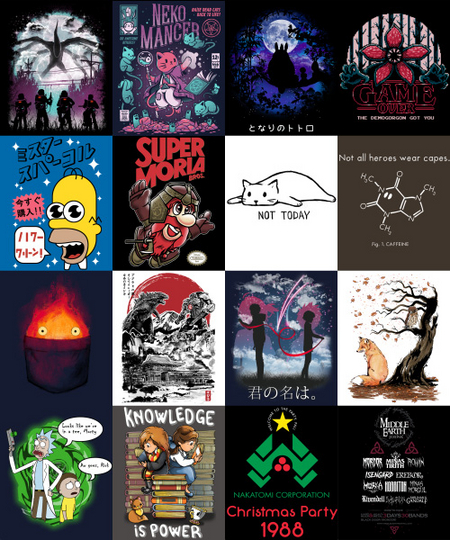 Order 8 for free delivery
Here's how it works
We're kicking off a WHOLE WEEK of Black Friday Sales early. So in just a few minutes time when the time on the Qwertee Qwertee Homepage hits zero our AMAZING Black Friday InsaniTEE sale begins. What's so special about this Black Friday Insanitee? Well how about literally our BEST OFFER EVER in 7 years of Qwertee when it comes to random tees! First off, we have AWESOME, LOWEST PRICE EVER £4/€4/$5 random tees £12/€15/$15 sweatshirts and £15/€19/$21 hoodies! (sweats and hoodie stocks are extremely limited, ie will sell out very quickly) But wait there's something even better with this sale. We're offering FREE SHIPPING on any orders of 8 Tees (6 in 2XL/3XL)! How does this work? Basically if you add any 8 tees to your cart (they don't even have to be all InsaniTEES) you will get FREE SHIPPING on your whole order! Let us do the maths for you, if you buy 8 tees this is literally the cheapest per tee price we've ever offered in our 7 year history! But be warned, with prices this low these will SELL OUT FAST! Finally, for those of you uninitiated in such matters, the Black Friday InsaniTEE Sale is an opportunity for you to pick up random designs from our back catalogue of tees. We've also got some random Hoodies and Sweats but they will sell out very fast! Here's a very small sample of the near 1000 possible designs you could receive
For thousands of people this Christmas, their must-have gift is far more vital than the latest gadget or toy – it's blood. Please don't let the festivities and cold weather prevent you from giving them the ultimate gift… give blood.
This discussion has been closed.
Latest MSE News and Guides