Community garden/allotment project.
306chris
Forumite
✭✭
I have got my self involved in a little community project - Gardens/allotment. It is ultimatly owned by the local Housing Trust and is run by a lady who works for them who has limited knowledge of gardening (this isn't the only thing she does, just happens that the garden is under her area) I know a little about gardening and have grown veg in my own garden with success and can grow plants from seeds ok.
The garden is enclosed and has raised beds the big ones are 16ft by 4-1/2ft and from what I can gather they haven't been touched for over a year. There is a gate and it is padlocked but kids can climb over and have in the past. Stuff has gone missing but I think that is partly because the garden hasn't been used for so long.
At the moment there is only me who has shown interest in sorting this area out. There is another person but they haven't been in contact for a while. There is money set aside for the garden via the local Housing Trust, I don't know how much but have been told that there is enough for sheds and greenhouses if we want them. I am hoping that once local people see and hear about it I may be able to get some help.
The problems that I have are; No water on site (have two water buts but need a way of filling) No electricity and little security.
Anyway here are some pics
This is a shot from the entrance and pretty much for over a year no one has been in here.
The beds are full of weeds, so today I went down armed with a fork, rake and wheelbarrow (and an hangover) and took a little helper with me as well.
I only managed to work on two of the beds. I was suprised how much hard work it was and how knackered I got.
I pulled up as much of the weeds as I could (a wheel barrow full of weeds) and then forked the beds over and then raked.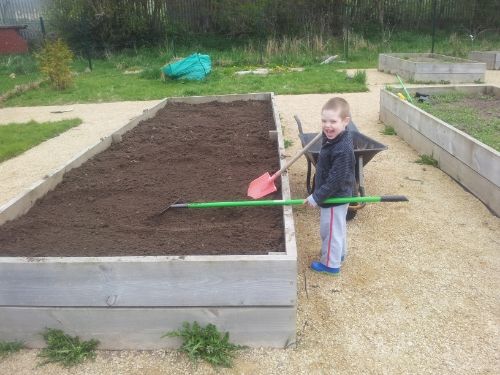 First bed done with a little help.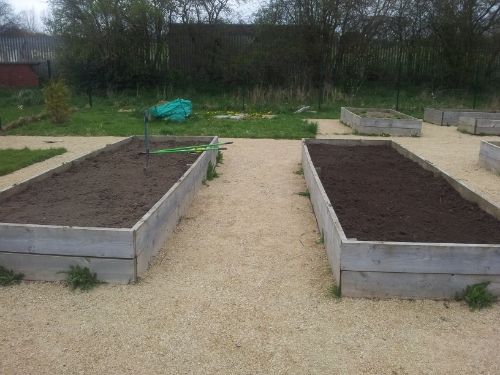 Beds one and two done. By this point I went home for dinner.
I have loads of veg seeds that were kindly donated by a local resident.
I have cabbage, sweetcorn, broccoli, broad bean. peas, cauliflower, spring onion, sporuts, beetroot, potatoes, shallots and onions to start with.
I would be grateful if you have any suggestions that could help me manage all the work or any labour saving tips. As well as any suggestions for what I may need.
Things that I need to do:
Sort out weeds in the pathways and at side of beds,
Tidy up areas around the fence
Find a way of getting water to site - Have water buts but no way of fillind them.
Weed, fork and rake the other beds.
Try and get others involved
There is an environmental project happening within the local HT and part of that will involve the local school. The HT are buying plants, pots and compost and we will be getting the children to plant something to take home. They want to do this at the garden on 09/05 so I've got a lot to do but I'm looking forward to it as both my children are at the school.
Thanks for reading and any help suggestions you have will be warmly welcomed.
Bedroom Tax / Spare room subsidy / Housing Benefit Reduction - It's the same thing, get over it.
This discussion has been closed.
Latest MSE News and Guides