Calling Remoska users!
Katiehound
Forumite
Posts: 7,244
Forumite
Today discovered that Aldi had silicone 8" cake 'tins' in their special buys middle aisles
I always use these for cooking cakes in the Remoska but more importantly for protecting the rather flimsy Teflon coating inside the base tin when cooking even a roast. I have tried to replace them over the last few years but none available
£3.99 each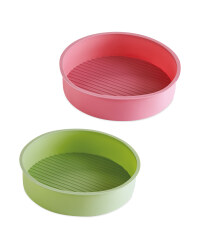 Being polite and pleasant doesn't cost anything!
---
If you found my posting helpful please hit the "Thanks" button!
---
Many thanks
---
-Stash busting
: 337 in 2022
Stash busting
: in 2023.
83
doggy duvets, 24 shopping bags, 28 dog coats, 2 scrunchies, 10 mittens, 6 bootees, 8 glass cases, 2 A6 notebooks, 45 cards, 6 lavender bags,12 crochet angels,8 woven bones, 3 owls = total 235...£84.17 spent
Categories
340K

Banking & Borrowing

249.1K

Reduce Debt & Boost Income

448.2K

Spending & Discounts

231.8K

Work, Benefits & Business

602.9K

Mortgages, Homes & Bills

171.6K

Life & Family

245K

Travel & Transport

1.5M

Hobbies & Leisure

15.8K

Discuss & Feedback

15.1K

Coronavirus Support Boards