Noticed some changes?
You can read all about the improvements we've made on the Forum in our
latest announcement
. We also have a
new set of Forum rules
so please take the time to give them a read and familiarise yourself.
Charities Board
We're struggling at the moment with the huge volumes of messages we're getting from Forumites about coronavirus and the impact it's having on their finances. We're a small team, with limited resources, but we're doing our best to manage this spike in demand.
At this time, please note the Charities Board should only be used by registered charities and not include personal posts. I'm afraid we will have to delete any posts that aren't from a registered charity. If you are facing personal financial difficulties at the moment, please use MSE's coronavirus guides – they contain all the info we have and are constantly being updated:
Coronavirus Help & Your Rights
*
Coronavirus Travel Rights
Rules on wording on charity bags
MothballsWallet
Forumite
✭✭✭✭✭
Hi everyone, I thought I'd ask this question here because of the fountain of knowledge available rather than just rely on teh Google.
Last week, a charity bag was popped through my door while I was at work by their collection company. I read the wording on the bag related to the donation amount given by the company to the charity, it is stated as an actual monetary amount rather than a percentage.
Now, my limited understanding of the rules on this (as I don't work in the charity sector) is that they have to put it as a percentage and not an actual amount: is this correct?
I've put links to images of the bag's front and back I've hosted Postimage.org (I've got a free account on there, so they shouldn't disappear after 30 days):
Front of bag: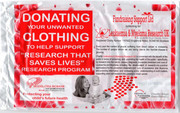 Back of bag: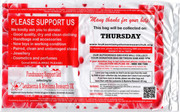 You can click on the thumbnails to see the full size image.
Just to reiterate, the bag states at the bottom of the second image that the company "guarantees a donation of at least £50,000 each year" to the charity.
I've emailed both the charity and the company to ask them to stop putting these bags through my door and queried how they've worded it: strangely, the automated acknowledgement emails from both are almost identical in how they are worded.
The standard of English used in the text on the bag also makes me a little suspicious that it hasn't been proofread properly before committing to the print runs.
:think:
Any ideas?
Always ask yourself one question: What would Gibbs do?

I live in the UK City of Culture 2021
This discussion has been closed.