Money Savers Arms
Last ooorders!… We're sorry but for now, due to resources, we need to close the Money Savers Arms including Discussion Time.
It's not easy to write this. We love the forum, but we also have a job to do to protect it, our users and MoneySavingExpert, and at the moment, with all our resources focused on Coronavirus information, and all the team at home, we don't feel we have the resources to do a good enough job.
For four months, we've been struggling to cope with the huge volumes of messages we've been getting from Forumites – many of whom are in desperate and dire straits with their finances. The team have been working all hours to try and keep on top of it. At first we thought it'd be a short sharp spike, but it isn't, it's continuing, so we have had some difficult choices to make about prioritisation.
Unfortunately in, and likely because of, these stressful times, the Forum team have also been receiving an increasing number of complaints about posts made on the Money Savers Arms and Discussion Time. The team have done what they can to try and walk the tightrope of balancing all the various interests, but for now we need to draw a line under this and temporarily close this Board, so we can keep the key, MoneySaving boards – where people are supporting each other through this crisis - running smoothly.
We know this board is important to you, but as the MSE stance has been
forbearance
throughout this crisis, now we ask that of you. We're sorry. Of course you can post on other boards, but we'd ask you to stick to the subjects of those boards, and not use them as a surrogate Money Savers Arms or Discussion Time. And as always please be kind and friendly to each other, especially any newbies.
Thanks
MSE Forum Team
Eggscelent Easter Puns That Will Crack You Up Zinco
Forumite
Q:
What do you call a rabbit housekeeper?
A:
A dust bunny.
Q:
Why was the Easter Bunny so upset?
A:
He was having a bad hare day.
Q:
What kind of music do bunnies like?
A:
Hip Hop.
Q:
How do bunnies stay healthy?
A:
Egg-ercise.
Q:
What day of the week do eggs hate most?
A:
Fry-days!
Q:
Why did the Easter egg hide?
A:
He was a little chicken!
Q:
What do you call ten rabbits marching backwards?
A:
A receding hareline.
Q:
What did the rabbit say to the carrot?
A:
It's been nice gnawing you.
Q:
What do you call a sleeping egg?
A:
Egg-Zosted!
Q:
What kind of jokes do eggs tell?
A:
Yolks
BONUS Bunny Pun:Q:
What do you call a rabbit who likes to tell jokes?
A:
A punny bunny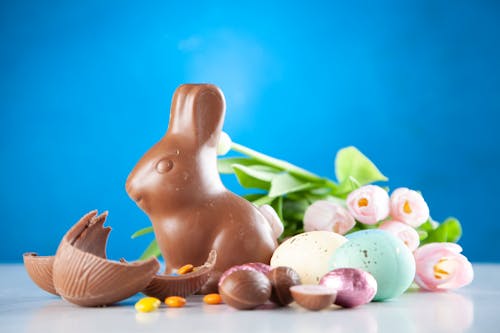 Quick links
Essential Money | Who & Where are you? | Work & Benefits | Household and travel | Shopping & Freebies | About MSE | The MoneySavers Arms | Covid-19 & Coronavirus Support